Developing Hybrid Apps Still Requires Actual Software Engineering
Today in the #phonegap IRC channel, a frustrated developer showed me the cartoon below: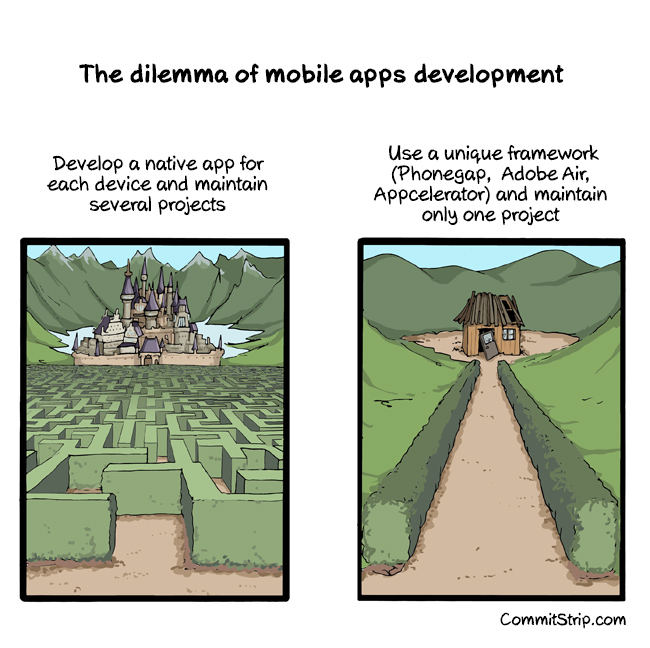 Sourced from: http://www.commitstrip.com/en/2014/08/18/the-dilemna-of-mobile-apps-development/
It's funny, of course, and closer to the truth in some cases than some of us would like… but it's still a massive over-simplification. It reminds me of my lightning talk: "PhoneGap doesn't suck, YOU suck" and the great blog post by Brock Whitten (@sintaxi) that inspired it - "You half assed it. That is why your PhoneGap application sucks".
I can't draw cool cartoons, so I can't make a pretty rebuttal. However, I would posit that developing a PhoneGap app properly is more like following Google maps to a beautiful suburban home. Is it Neuschwanstein? Maybe not, though it depends greatly on what kind of app, and the developer(s) making it. There are certainly areas where hybrid app development shines, and some where it struggles. But, I would further suggest that a quick perusal of the various app stores would clearly show that merely being "native" does not instantly bestow taste in design, lightning speed, or the ability to make a useful and useable app that users actually enjoy. The castle on the left is probably as much of a fairy tale as it looks.
As the wise Eion Robb said in response to my wanting to write this post:
"the real argument is time [leads to] quality, regardless of language, platform, [or] technology. There are no shortcuts"
One thing I can say, is that the rickety shack attributed to hybrid development in the cartoon above is too often the result of not knowing how to get the best out of a great platform. Slapping a Bootstrap or jQuery Mobile app into a Cordova wrapper is not going to get you the same app that learning Objective-C, and Java, and making use of the tools Android and iOS provide are going to get you. Having said that, I personally believe that with a solid understanding of HTML, CSS, and JavaScript, you can get pretty damn close (or better) and not have to freeze to death in the maze from the Shining, to get there.
Resources: